Back Bowls / 18 cm (7.5")
Mid Mountain / 15 cm (6")

RUNS: 91 / 160  | 
LIFTS: 10/10
Upper Village / 9 cm (4")
RUNS: 74 / 138  | 
LIFTS: 10/11
RUNS: 40 / 60  | 
LIFTS: 5/6
Mid Mountain / 13 cm (5.5")
Back Bowls / 18 cm (7.5")
Mid Mountain / 15 cm (6")
Back Bowls / 61 cm (24.5")
Mid Mountain / 51 cm (20.5")
Back Bowls / 111 cm (44")
Mid Mountain / 92 cm (36.5")
Back Bowls / 221 cm (87.5")
Mid Mountain / 184 cm (72.5")
SNOWFALL UPDATE @ 8:47AM – 15CM OF SNOW OVERNIGHT AND STILL SNOWING We've received over half a metre of new snow in the last seven days, and there's still more in the forecast. All ten of our lifts are spinning today, and we have 91 runs open and waiting this morning with fresh snow on all of them. Don't miss out, come out, and find your perfect line! *ATTENTION – MEN'S WORLD CUP CANCELLED Due to last night's heavy snowfall and today's weather forecast, the World Cup has been cancelled. EARLY SEASON CONDITIONS APPLY Additional hazards may be present during the early season, especially in the trees, off groomed runs, and in some higher-traffic areas. Always choose terrain within your ability level, pay close attention to signs, be mindful of those around you, and ski or ride with care! SAFETY PROTOCOLS Please read our winter safety protocols before you visit.
RUNS: 74 / 138  | 
LIFTS: 10/11
TODAY'S HIGH  -1°C / 30 °F
Heavy Snow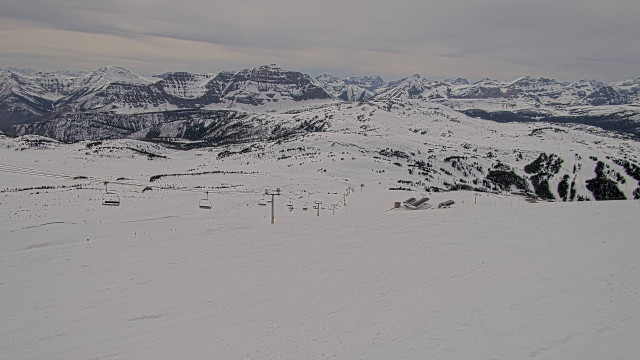 Conditions Last Updated: Nov 28, 8:23 am
Conditions are subject to change without notice.
Upper Village / 9 cm (4")
Upper Village / 9 cm (4")
Upper Village / 53 cm (21")
Upper Village / 115 cm (45.5")
Upper Village / 258 cm (102")
GREAT DIVIDE IS NOW OPEN!!! We have had 35cm of snow in the past 72 hours and 258cm to date with heavy snow expected throughout the day! The Great Divide chairlift is now open, so you can ski in Alberta and BC all in one go! Other open lift lines include: Wolverine, Jackrabbit, Wawa, Angel, Teepee Town LX (Canada's first and only HEATED CHAIRLIFT), Strawberry Express, Mitey Mite Carpet and Standish Express as well as the Snowsnake Terrain Park, and our crews are working hard to open more. So come on up today and enjoy Canada's Best Snow!
RUNS: 40 / 60  | 
LIFTS: 5/6
TODAY'S HIGH  8°C / 46 °F
Flurries changing to rain showers this morning. Snow level rising to 2000 metres this morning. Snowfall amount 2 cm. Rainfall amount 5 to 10 mm. Wind west 30 km/h gusting to 50. High 8.

Upper Mountain / 10 cm (4")
Upper Mountain / 50 cm (20")
Upper Mountain / 109 cm (43")
Keep an eye on Norquay' social media, we hope to open North American this weekend. Norquay Quality Time just gets better!